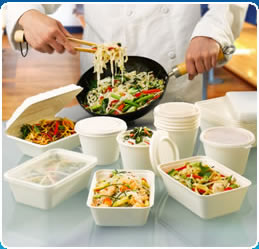 Our new GoodLife® range of environmentally friendly, biodegradable food containers means you no longer have to choose between aluminium and plastic. Robust, heat resistant, microwave, freezer proof, they're made from renewable natural fibres that degrade safely in a matter of weeks.
Ideal for takeaway and kitchen storage
Resistant to hot water to 100°C & hot oils to 150°C
Will not absorb liquids or grease
UV sterilised and quality controlled to food service sanitisation standard
Choose from an enormous variety of GoodLife® biodegradable foodservice products, made from moulded reed and sugar cane fibres or PLA. In either range you'll find a product for every event and occasion.
A Massive Range
Special Services
In the unlikely event you don't find what you're looking for, you can either place a special order from our extended range, or we can design a new product tailor-made to suit your individual needs.