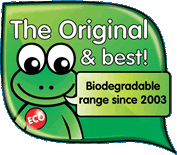 Choose GoodLife® and you can offer your customers a genuine alternative to paper and plastic. Our plates, bowls, containers and other other foodservice disposables are durable, lightweight and totally biodegradable. Now also available from
Sovereign
GoodLife® products are manufactured from reed or sugar cane pulp and our new PLA range from poly lactic acid found in corn starch.
All these renewable resources are totally food safe and biodegradable, so you'll also be helping to protect the world's natural resources.
Totally microwave-safe, and with half the bulk of foam plates, GoodLife® quality biodegradable pulp fibre products are available in a wide range of shapes and sizes
The all-new GoodLife® click-shut Laptop range are 100% biodegradable and compostable,and are made from natural, recycled materials
GoodLife® transparent or coloured PLA food containers are fully biodegradable and can return to nature in just a matter of weeks.

Plastic products are unacceptable but the GoodLife® range of organic wooden cutlery can fulfill your needs

Special Services

In the unlikely event you don't find what you're looking for, you can either place a special order from our extended range, or we can design a new product tailor-made to suit your individual needs.